10
Mar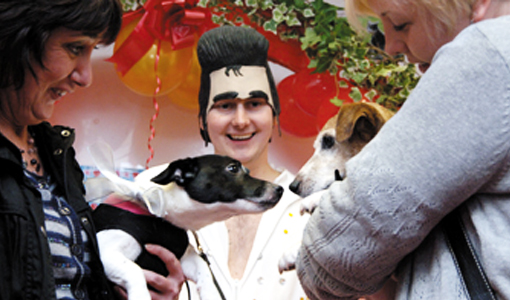 Publicity Campaign Ensures Record Attendance at Vet's Open Day
Love was in the air at one of Silver Bullet Marketing's longest standing clients events, when they held their free, Valentine's themed Open Day.
The Valentine's themed Open Day held by Blythman and Partners Veterinary Practice in Hebburn saw over 450 people turn up, 150 more guests than the previous Open Day. The free, family day included a Las Vegas Chapel styled room, where owners could get their pets 'married' by none other than the King of Rock and Roll himself, Elvis Presley.
Silver Bullet invited back Galaxy Radio's breakfast show present, Karen Wight, after she provided a hit with clients at the previous Open Day.
Clients of Silver Bullets for over ten years, Blythman and Partners teamed up with our Account Manager in order to produce a day that would not only be a great day out for current clients of the practice, but would also attract non-clients.
Pre-publicity regarding the Open Day, including PR, marketing material and several spots on Galaxy Radio ensured a record-breaking year of attendance. Post event PR and a special feature on Galaxy Radio helped the campaign receive maximum exposure.
Over £400 was raised for the Dogs Trust and Cat Protection League.
Head Veterinary Nurse at Blythman and Partners and organiser of the Open Day, Tim Jackson, commented, "The day was a overwhelming success with more guests than ever before, including non-clients. Everyone had a great day, the highlight being the pet weddings."
Account Manager at Silver Bullet, Jennifer Tate, said, "Blythman and Partners is one of our oldest clients and we have always had a close working relationship with them. The Open Days they frequently hold are a great way for the practice to give back to the community, and also serve as a way for them to meet new clients and introduce them to the branch and its staff. With this is mind we wanted to create a theme that was unique, fun and would gather a lot of publicity for them, which is why the pet wedding was ideal. The increased publicity meant more awareness of the event in the general public and ensured a great day."