19
May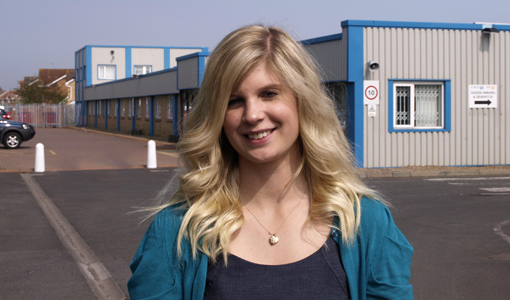 Collaboration Provides Unique Opportunity
Close collaboration between an Ashington-based engineering group and its marketing agency has resulted in the creation of an unique opportunity for an undergraduate placement.
Hadar Lighting, part of the Ashington based A-Belco Group have appointed Sally Jesson, a third year student at Northumbria University studying Advertising Management, as Marketing Assistant after close liaison with their marketing agency, Newcastle-based Silver Bullet Marketing Ltd.
A-Belco Group Managing Director, Brian Trench, explained the appointment, "We enjoy a very close relationship with Silver Bullet and I recalled John Dias, their MD, commenting that they wouldn't be taking a placement student this year as they had in the past, but that it was a shame because one CV had stuck out particularly of the numerous they had received. At the same time, we were looking for additional staff who could help us with the marketing tasks that we wanted to do in conjunction with the agency's work, and the idea was born."
"How the placement works is that Sally works four days with us in Ashington on real marketing tasks, varying from competitor analysis to exhibition organisation, and the one day with the agency who review her progress, set tasks and goals and also provide additional placements for her with external media partners."
The combined partnership of working for both Hadar Lighting and Silver Bullet Marketing provides insights into very different areas of marketing. Hadar Lighting, who manufacture hazardous area lighting for the oil, gas, petrochemical and marine industries worldwide, gives an understanding of the client side of the sector, whilst Silver Bullet Marketing offers the opportunity to experience the world of a fully integrated agency, learning everything from the traditional skills of media buying to modern e-marketing techniques.
Sally commented, "I am really grateful for the opportunity to work with both the client side and agency side. I think the combination will provide me with a varied breadth of invaluable experiences. I have really enjoyed being introduced into a live account and getting involved in a range of practical tasks. Working for such a progressive and innovative company as Hadar, has given me a completely different insight into engineering and manufacturing."
Brian Trench continued, "Sally is fortunate to have joined us at a very exciting stage of our development following the development and production of our class-leading range of LED floodlights. The innovative LED lighting is proving to be a best seller, with sales already surpassing their original estimates and we will shortly announce details of one of the biggest export orders in our history."
Hadar Lighting is a specialist manufacturer of hazardous area products for the oil, gas, petro-chemical, pharmaceutical and marine industries worldwide.