31
May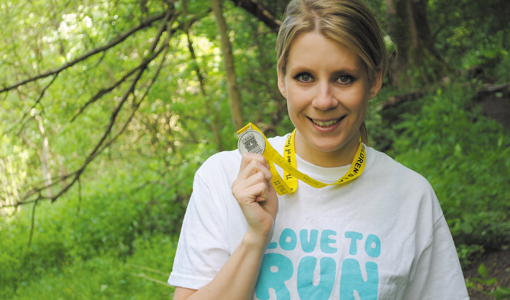 Kerry Hits the Ground Running
Newcastle based marketing agency, Silver Bullet Marketing has bolstered its account management team by taking on a new account executive. Kerry Tudor, 25, from Ryton has just been appointed as an account executive at the full service marketing agency who recently celebrated their 12th anniversary.
Previously a marketing assistant at North East enterprise agency TEDCO, Kerry proved her dedication and enthusiasm for her new role by taking part in her new client's charity fun run, which is the biggest of it's kind in the UK.
Silver Bullet manages the marketing and PR for the Gregg's Children's Cancer Run account free of charge each year.
Kerry said, "I was thrilled to be offered the position at Silver Bullet knowing that, amongst other clients, I would be able to work to promote such a worthwhile cause. I decided to take part in the run to help raise money for the North of England Cancer Research (NECCR) fund. The event was great and I look forward to continuing the agency's relationship with the run next year."
Silver Bullet Managing Director, John Dias added: "We're delighted that Kerry is joining us at such an exciting time for the agency as we see market for our services not only recovering but actually improving with a number of new account wins in recent months."
"We've handled the marketing and PR for the Children's Cancer Run for five years now free of charge as it is a charity very close to our hearts. It certainly wasn't part of Kerry's job description that she had to run but she really got into the spirit of things and was one of almost 10,000 runners this year who help to raise some £250,000 per year for this incredibly important cause."
Silver Bullet Marketing provides a full range of marketing services from PR to website design. For more information call Silver Bullet on (0191) 261 7422 or email kt@silverbulletmarketing.co.uk