02
Jun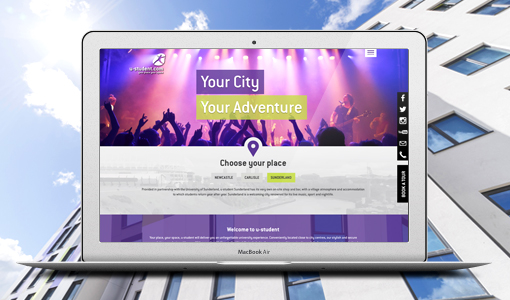 u-student go live!
One of the most satisfying things we do at Silver Bullet is working on a project together with our client through to fruition and we recently completed our first project with our newest client, u-student, as we launched their brand new website.
After meeting u-student, our first step, as we do with any client, is simple, we just talk. We want to understand as much about our clients as possible, their operation, their visions and their values. Whatever our preconceptions, it is the client that is the expert in their field and every client is different. We respect that, hence there are no "off the shelf" creative, designs or even websites produced by Silver Bullet, everything is bespoke.
u-student are an established student accommodation provider, with their first site formed in Carlisle in 2005. A larger accommodation site in Sunderland soon followed, before in 2014, The Studios, a new 386-bed accommodation opened in Newcastle. "The Studios" taking its name from the old Tyne Tees Television studios that once stood on the site in the heart of Newcastle's Quayside.
From the outset it was clear that u-student possessed a very strong brand and identity. They are a high quality student accommodation provider and aim to give every tenant the best possible university experience. We then worked on a plan as to how we were going to maximise the strength of this brand and communicate with the target market, the students.
One of the most important pieces of marketing advice we give to any client (which was already in u-student's minds) is that in this day and age, you must have a good website. It is worth the investment. Your website is often the first exposure a potential customer will get of a company and a brand, and thus will form opinions of the organisation straight away.
This instantly gave us the first and most urgent point on our brief, the design and build of a new u-student website.
Only six weeks later, an incredibly short time for a build of this nature, the new u-student website went live. A new website that would reflect u-student and give them a real opportunity in this highly competitive market. You can see the site live at www.u-student.com
The new website holds a sleek, modern and contemporary feel. The u-student accommodation itself and the nature of the business gave us potentially excellent imagery. We then made the decision to commission some new bespoke and fresh professional photography, allowing us to build an image focused website. Modern website build capabilities allow us to be extremely creative with our designs and this can be seen in the effects, parallax interactive and moving features on the new site. With Google's recent announcement that websites with greater mobile responsiveness are more favourably ranked, making a mobile responsive site was a must for u-student.
Martyn Boak, Managing Director u-student said:
"We are really pleased with the end product, we now have an excellent website and, we feel, one of the best in our market. We are very impressed with the detail and the content management system is very well built and will be easy to maintain and update. All this was delivered on a tight timetable and Silver Bullet have done a great job."
So, if you are questioning your current marketing strategy or feel your website is in need of an update, then why not get in touch and we can have a chat? Give us an email at hello@silverbulletmarketing.co.uk or give us a call on 0191 261744 and lets see what we can do for you.