02
Aug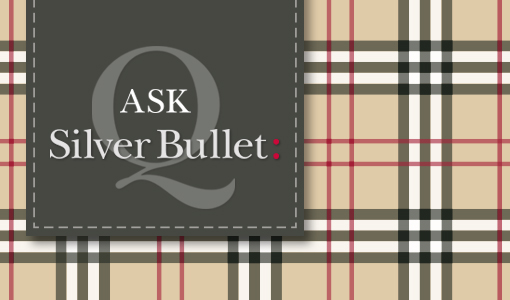 What is meant by 'brand dilution'?
Ask Silver Bullet - August 2018

Brand dilution occurs when a brand is overused through extending into other markets, price-cutting or increasing volumes – the brand loses its inherent value from excessive use.
The results can be devastating as the value of the brand, itself an asset that generates future revenue, falls – consumers no longer expect the quality or experience they once did.
Whilst all this is so far marketing theory, the Fall and Rise of the House of Burberry is perhaps the best example I know of that exemplifies brand dilution and how painful it can be to stop the process.
The classic British fashion brand was established in 1856 by Thomas Burberry concentrating on outdoor clothing. His breakthrough came in 1879 with the introduction of 'gabardine', a water resistant but breathable fabric where the yarn was waterproofed before weaving. The clothing quickly gained market share being worn by both Ernest Shackleton on his 1914 Antarctica expedition and George Mallory on his 1924 Everest expedition, but it was the adoption of the 'trench coat' by British officers in WWI and subsequent post war popularity with civilians that assured the brand's success.
During the 1970's and 1980's however, the company had signed licensing agreements with global manufacturers to produce complimentary products, all featuring the iconic check. The result was that the check was appearing globally on everything from dog collars and kilts to prams and baseball hats and, in the UK, had been adopted by a far from glamorous section of society and was now known as 'chav check'. When Eastenders actress, Daniella Westbrook, infamous for her drug problems, appeared in head to toe Burberry goods, it was no longer the luxury brand that the original customers wished to be associated with and the share price reflected this, falling to an all time low of £1.60 in November 2008.
CEO, Angela Ahrendts, appointed in 2006, was already taking action, reviewing the 23 global manufacturing licenses – in the USA, for example, the coats were sold cheaply with 'Made in the USA' labels. Ahrendts began to wield the knife, closing down the US factory and the Welsh factory that made Burberry polo shirts in a host of drastic moves that included the end of their Hong Kong design office – everything now went through the Creative Director and brand czar, Christopher Bailey, who realigned the brand with its core values. A painful period of restructuring, shutdowns and lay-offs followed. Out went the baseball caps and in came uniformity – every store would look the same, the company would concentrate on what it did best, the trench coat, and move forward with digital innovation, including the first live streaming of their fashion show in 2010.
Angela Ahrendts left to run Apple in 2014 and Christopher Bailey became CEO and continued to move the brand back up-market into the luxury, but affordable, range where it had originally enjoyed such success, At the time of writing, the share price has risen to £19.70, reflecting the resurgence of the brand.
Any successful brand, whether this be a regional provider of legal services to a national chain of restaurants, requires uniformity and understanding of core values which can often be lost unless a firm control is kept. So, whilst you may not be responsible for such a giant as Burberry, the lessons of over-exposure and control of the brand can be learnt. It takes years to create and define a brand, but it only takes minutes to destroy it…

Do you need some assistance with your marketing? Do you need to review your strategy or do you have another marketing question we can help with? Talk to us. Email your questions anonymously to us today hello@silverbulletmarketing.co.uk or Tweet us (not so anonymously) @SilverBulletPR.