09
May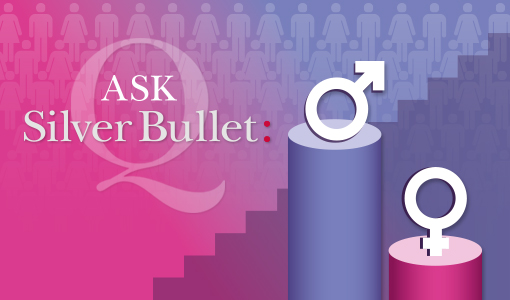 How can we use Gender Pay Gap figures for marketing?
Ask Silver Bullet May 2018


By the time this article sees the light of day, all companies employing more than 250 people are meant to have published their GPG statistics – in essence, the percentage difference between male and female pay, although the six calculations required include different aspects of pay statistics including bonus payments.
If all this is sounding daunting, the legislation is fortunately only aimed at the 10,000 or so largest firms who employ more than 250 employees and will most probably have substantial in-house HR departments.
After figures were released in April, the Office for National Statistics (ONS) reported that men earned 18.4% more than females and the legislation is an attempt to understand and then reduce this figure. The picture arising from companies that have submitted data is not promising – Easyjet reported a GPG of 45%, Virgin Money 38%, yet Ladbrokes was just 2.5% - all three firms reported that men and women in the same roles are paid equally, meaning there are far more males than females in the better paid jobs.
So, given your GPG data is not flattering, what can you do? The first point is companies should definitely obey the regulations and publish their data - whilst there's actually no immediate financial penalties for non-compliance, continual non-compliance may well be investigated by the Equality and Human Rights Commission (EHRC) which could result in fines.
There will undoubtedly be a flood of GPG statistics released after the authorised date in the hope that individual poor results can be overlooked in the general picture, but this misses the essential point of using GPG as an opportunity and catalyst for change.
GPG reporting hasn't been introduced to single out employers for public ridicule, although, the revelation from beauty brand, L'Oreal UK, who has marketed their cosmetics under the slogan "…because you're worth it", that there's a 35% GPG despite the fact that their workforce is 84% female, won't have gone unnoticed. Rather it is to understand the differences and then consider ways to bring parity – as such just the exercise of assembling the data will highlight many issues to receptive management.
We are fortunate to work closely with HR consultant Steve Duncan who has vast experience and expertise on the topic. He advises, "Definitely publish as directed, however large the gap may be – there'll probably be worse figures coming out dependent on different sectors. Honesty is the ONLY policy here!"
"The picture and opportunities across different sectors is interesting – construction, for example, generally deemed a male oriented industry has an average GPG of 18% and aims to reduce this to 15%, whilst hospitality, again, generally considered a more female led industry, is actually worse."
"Whilst everyone accepts equality of employment, there's a huge difference between equality of opportunity and equality of outcome and it requires a change of culture to tackle the barriers to create real equality – adverts and open days need to stress the organisation's commitment to this policy with policies like shared parental leave, flexi-time to facilitate child care, provision of crèches and other initiatives, but also have to accept that the pool of skilled female brick layers, for example, is highly limited so to only fish here is to limit outcomes."
So, publish the data, accept it as a snap shot of the present position but use this to progress the company and be open with prospective customers about the position. At some point, it is highly likely that a pre-set GPG performance will be a pre-requisite for public funded contracts, so if you're competing in this market, you may as well start changing things now!
Do you need some assistance with your marketing? Do you need to review your strategy or do you have another marketing question we can help with? Talk to us. Email your questions anonymously to us today hello@silverbulletmarketing.co.uk or Tweet us (not so anonymously) @SilverBulletPR.