06
Apr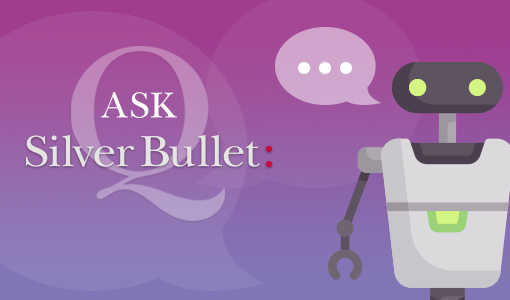 What is a Chatbot and what are they used for?
Ask Silver Bullet April 2018

The word chatbot could be an alien term to many of you, but this growing form of marketing was actually developed over 50 years ago. ELIZA was developed in 1966 as the first chatbot to connect people with technology. Some years later and with vast improvements companies have realised the potential of the chatbot and are using it as a unique marketing tool to connect with customers. A chatbot is a computer program that conducts a conversation as a way of gaining an insight to customer behaviour.
Otherwise know as a 'chat robot', a chatbot can simulate convincing human conversation. When conversing on a company website you are generally talking to artificial intelligence rather than a human employee. People interact via a chat interface, which is generally an automated message, in order to talk to a company via their website. Some chatbots using artificial intelligence actually have the ability to make decisions by using algorithms. For instance, if you ask a chatbot for a refund on a consumer website they have the ability to view your account and decide whether you are eligible.
As a result of the development in artificial intelligence multiple companies use chatbots as a conversational agent, providing instant and personalised customer responses. A talking bot can benefit a company dramatically by not only increasing customer satisfaction but also can save hundreds of thousands of pounds in manpower. So in this respect, robots really are taking over humans.
A chatbot works by using algorithms picked up by customer behaviour and managing the information so it can react to the consumer. A site hosting a chatbot allows shoppers to believe the staff and customer service is exceptional, it is in fact the chatbots studying behaviour and attitudes working out what the customer wants to see and reacting to it.
It is a common conception that some of the best chatbots are feeding into millennials need for instant gratification. With polite conversation and flattery chatbots are giving some young shoppers satisfactory discussion about what they like and what suits them. For some millennials it is a way to leverage conversation as digital technology is a primary form of communication, chatbots fit in to a convenient lifestyle – they are designed to be a quick and uncomplicated way to find the answers a consumer may be looking for.
There are many companies who are branching out to this popular method of marketing communication. Some of which are using common platforms such as Facebook messenger to reach a larger audience, others have these conversation tools built into their website or app. Facebook chatbots are a good idea for businesses as an autonomous digital assistant, these chatbots are used via Facebook messenger to automatically answer FAQ's. Using this tool enables companies to monitor customer behaviour across multiple sites and channels.
An example of a company launching a chatbot is the global brand Pizza Hut. The restaurant allows you to make orders through their Facebook messenger chatbot and connect your personal Facebook account to the Pizza Hut account in order for it to see your order history for future promotions or re-ordering. The brand wanted to make it as easy as possible for customers to order food without even having to pick up the phone.
MasterCard are another universal brand that use a Facebook messenger chatbot so customers can find out information about their bank accounts without having to log in via the website. Chatbots are created to understand human interaction so can gather information with a simple question, for example a customer can ask MasterCard "How much did I spend in Supermarkets last month?" and the chatbot will simulate the result and deliver it in a conversational style to the customer. This impressive form of marketing is changing the way companies communicate with their clients.
Starbucks have a similar chatbot available that also articulates when your order is ready and how much it will cost. This chatbot is somewhat different as it is on the Starbucks app rather than a third party platform; this means that you don't have to connect any of your other accounts to the company for them to see your history, ultimately making it pretty secure.
These chatbots are allowing technology to generate an instant conversation as a way of keeping customers satisfied. Talking to artificial intelligence is bridging the gap between human interaction and machine capability and may well be seen as the future of market research.
Do you need some assistance with your marketing? Do you need to review your strategy or do you have another marketing question we can help with? Talk to us. Email your questions anonymously to us today hello@silverbulletmarketing.co.uk or Tweet us (not so anonymously) @SilverBulletPR .