07
Mar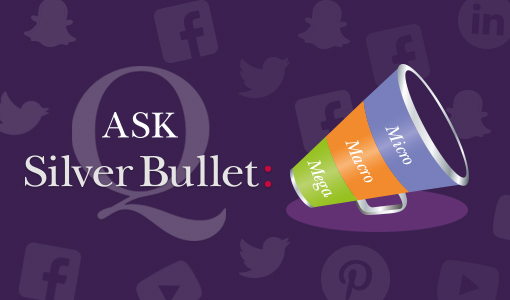 I read about influencer marketing, but what exactly is it?
Ask Silver Bullet March 2018

Influencer marketing is an effective and increasingly popular type of marketing which essentially refers to influential characters promoting a product or service to a larger audience than the original producer could without them. It has evolved and indeed increased in cost-effectiveness and importance primarily due to the increasing amount of media platforms available - influencers can place themselves in the public eye online or offline and promote something which might not relate to their specific field.
Everyone is an influencer. But, when it comes to reaching the majority of a demographic, often one of the best ways to market a product or service is by using celebrity endorsement, a market professional or a specific subject specialist. These influencers have the power to massively promote or endorse products and services by influencing the decision to buy and are therefore perfect for marketing.
There are multiple ways to carry out influencer marketing dependant on the sector in question and the target audience. This then determines who or what the influencer will be and where the influence will be the most effective. Some companies working in B2C environments find it beneficial to use influencer marketing in adverts, magazines or in a Social Media campaign, either through endorsements or paid advertising. B2B companies find it valuable to use an influencer in conferences and seminars as a guest speaker. Influencer marketing is a way to place someone people can relate to in the public eye and associate it with a company or product.
Influencer marketing has been around for decades, but when celebrity endorsement first occurred, television advertising was the perfect mass media to reach a targeted audience. When Henry Cooper became a household name for his Brut endorsement in the 1970's, "Splash it all over" not only became the slogan for the advert but almost an identifying quote of the great boxer. These adverts produced a trend that has continued ever since, with more recent influencers such as Tom Hiddleston endorsing Jaguar and Gary Lineker being the face of Walkers Crisps. The approach to influencer marketing has changed; nowadays there is a vast amount of influencers available, each attempting to push a different message across a variety of media channels in order to acquire an instant response. Influencer marketing is not a recent phenomenon but is a transformed practice.
Due to fast moving digital marketing, online influencing has become a fashionable way to market. Different levels of online influencer all possess certain qualities, for instance on Social Media there are micro-influencers, macro-influencers and mega-influencers. Silver Bullet are a micro-influencer meaning we reach and have the ability to influence 1K to 100K people, micro-influencers are usually trustworthy and relatable. Macro-influencers tend to be Social Media icons, bloggers or journalists reaching around 100K to 500K people. Mega-influencers refer to celebrities and famous people who can impact over 1 million followers; these people have a huge media influence and the ability to change views and opinions.
When companies develop marketing strategies, incorporating online marketing with an influencer produces a campaign that is going to generate sales and hopefully visible ROI. However, it is important for companies to choose the correct influencer to represent their product otherwise it could have a negative effect on both parties.
Social Media sites are one of the most effective areas for influencer marketing, as they possess the ability to generate instant results. There are multiple Social Media platforms for influencers to reach key demographics, for example an attractive Z List celebrity would be a perfect influencer for a clothes brand – the demographic aspires to act and look like the celebrity and what better way to start than wearing the same clothes. Celebrities can become brand ambassadors for products and services that their fans will get involved with. Endorsements on Social Media are a fast way for a company to receive attention and this influence is ultimately the perfect addition to a marketing campaign.
Social Media also has the largest impact for those attempting to become an influence; companies and specialists in a particular field have the ability to persuade with a constant stream of content.
So does it work - yes, massively so - 68% of consumers trust online opinions from other consumers and 49% of people would act on an A List celebrity's recommendations. It is definitely a form of marketing that is increasingly competitive and the company with the most impressive influencer earns their market share.
Do you need some assistance with your marketing? Do you need to review your strategy or do you have another marketing question we can help with? Talk to us. Email your questions anonymously to us today hello@silverbulletmarketing.co.uk or Tweet us (not so anonymously) @SilverBulletPR.