06
Sep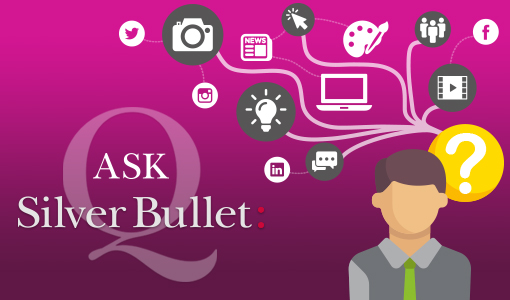 What are the advantages of outsourcing my marketing compared to employing in-house?
Ask Silver Bullet September 2018: What are the advantages of outsourcing my marketing compared to employing in-house?
I think we were first asked this through the #AskSB column back in December 2015 when I declared a vested interest in supporting outsourced marketing services but attempted to see both sides by stating that, in my opinion, out-sourcing and in-house expertise were not mutually exclusive and actually worked very well together to provide the best of both worlds.
Needless to say, some external agencies and in-house marketers disagreed, although we also had a good deal of positive feedback, and I'd stick by my argument of thee years ago – combining in-house product and market knowledge with the fresh thinking, cross pollination of ideas, versatility and creativeness of agency expertise can provide the perfect marketing mix for an organisation. This hybrid model won't suit everyone of course, but it does provide a highly cost-effective means of accessing the diverse range of different disciplines now required to market products and services in a digital age.
With the universities currently churning out marketing graduates at a rate that exceeds demand and thereby keeping salaries low, there's obviously a temptation to employ someone who may or may not have the skills required at a relatively cheap rate. But, whilst they may well have studied a module in graphic design, for example, they're unlikely to be as expert as out-sourced graphic designers whilst the same is true for the supply of a public relations service, marketing strategy, media and print buying, event management and the host of other disciplines an out-sourced multi-disciplinary agency can provide.
What in-house personnel can do, however, is have an expert insight into exactly what products or services the organisation produces and the markets they wish to access. They also have direct access to the relevant expertise within the organisation and understand the budgets the campaigns have to work within. They are clearly focused on their targets and look to achieve maximum return on investment.
External agencies, however, can provide the fresh thinking that is at the very heart of creativity. To ensure their survival in a very competitive sector, they must necessarily come up with fresh and inventive ideas that an in-house team, often tied and controlled by office politics and personalities, may well have not dared consider or even imagine.
Mark Evans, Marketing Director of Direct Line Group, recently commented on this, "We have done some in-housing, but only where it was so obvious to do it that we would happily forego the potential downside."
"The downside is that as soon as you in-house something, there is a 'snapshotting' that happens. You take an influx of really good talent and they take all their accumulated knowledge and wisdom into the business at that time and they immediately potentially put the shutters up because they only know about insurance and there is less of an imperative to be in tune with the developing world outside."
"In most cases we have done part in-housing, so we still get the freshness and vitality and external perspective, but we have some of the core skills embedded within."
Damian Ellis, Director of Global Procurement for FMCG giant, Mondelēz International, (owner of the Cadbury, Milka, Oreo and other global brands) goes further, "For us it's about talent and getting that creative freshness, and I'm not sure if you have the in-house model you will be able to keep that - if there is someone that can do a job better than you, then let them do that job and help you in that process." he said.
In pure economic terms, agencies also come without the costs of in-house recruitment – recruitment fees, PAYE, insurance, pension, leave, holidays, hardware, office space, etc. Clients pay a fixed price for the agency services which may be strategy, Public Relations, digital marketing, copy-writing, graphic design or any other marketing discipline and will get an experienced expert in that field. In addition, should the worst case scenario happen where the campaigns don't work or personalities clash, the contract can quickly be terminated without additional costs or internal disruption.
Do you need some assistance with your marketing? Do you need to review your strategy or do you have another marketing question we can help with? Talk to us. Email your questions anonymously to us today hello@silverbulletmarketing.co.uk or Tweet us (not so anonymously) @SilverBulletPR .