06
Jun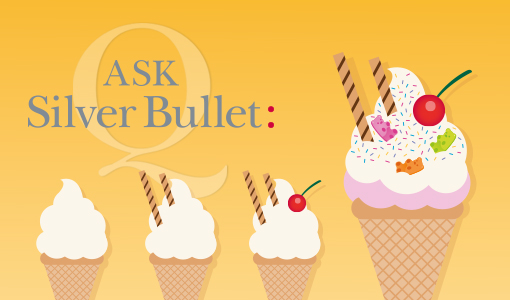 What is added value in business?
Ask Silver Bullet May 2018

The concept of added value is, from a purchaser's point of view, how to acquire more products or services for your budget and, from a supplier's point of view, how to differentiate yourself from your competition by offering your market products or services which are perceived to be without cost.
There's nothing new in the concept – anyone that can remember Embassy cigarettes, for example, will recall the Embassy Tokens the packets contained. Whilst similar techniques have been used, particularly in the FCMG sector, for years ranging from the incredibly popular 'free' gifts in cereal packets to stamped loyalty cards in pubs. Whilst the B2B sector has also used the technique, it hasn't been as publicised - adding free services or products to a fixed price contract is nothing new and, unlike a discount, a company offering added value is adding something to a service already being provided, usually at no extra cost.

What is new is that 'added value' is now expected and almost mandatory for a growing number of private and public tenders with the question of how a supplier will add extra value to the supply of a service or contract taking an increasingly prominent position.
It is particularly important for new suppliers who do not have the benefit of a proven track record of delivery with a customer or customers, and given the number of start-up companies in the UK, 50% of which fail due to mirrored or duplicated services and products being offered at a lower cost or higher quality, it adds to the unique selling point and differentiates a business from its competitors. In theory, added value needs to be something others are not offering, giving that extra touch from your company which could make all the difference to the customer.

In practice, however, it's also now becoming so common, that the difference between the paid–for product or service and the 'added value' is becoming blurred in many cases. How many construction companies, for example, offer to take on apprentices when bidding for Housing Association contracts or developers offer to provide 'free' community facilities. In our own sector, the 'free' marketing audit is now being publicised as something different when it is simply normal procedure as part of the start of any new contract for most marketers.
The cost of providing real 'added value' has to be considered. For many suppliers it may not cost them anything to provide but is perceived to be of high value by the client or customer. In this way both parties win – the customer is happy to get something they value that they're not paying for, whilst the supplier has made the sale without having to lose any profit apart from, in many cases, some additional hours.
There are numerous examples of this – a law firm that offers to visit clients in their own workspaces rather than the usual practice of requiring clients to come to their premises, house builders who offer free additional items, whether this be white goods or turfed lawns, accountancy firms who hold regular networking event where their clients can sell to each other, engineering companies who offer free consultation, commissioning and maintenance on their products, website developers who offer free CMS training or, going back to consumer goods, the toothpaste manufacturer who provides free tooth brushes or the cosmetic manufacture that provides free make-up lessons.

Product value is usually determined by the consistency and attributes of a business. Many companies provide high quality services at a high cost, so when such a company adds value to its services it's not necessary to charge for additional services because the cost can be part of the original offer. Customers generally don't mind paying a little bit extra for a superior service.
Customers feel like they are getting free expertise. When clients receive a high quality service at the best rate they grow to value a company, which ultimately leads to return custom and referrals. By creating customer value, a company will be viewed as reliable, trustworthy and above all going the extra mile. Clients want to feel like they are getting the best possible service and something that competing suppliers cannot provide.

When focusing on ways to market your company, focus on the USP's that clearly position you and allow you to stand out from the crowd. Decide what added value clients are looking for in your sector and work out how you can use this to surpass competitors. With added value, the company and clients are giving the business an extra push to thrive. Do you need some assistance with your marketing? Do you need to review your strategy or do you have another marketing question we can help with? Talk to us. Email your questions anonymously to us today hello@silverbulletmarketing.co.uk or Tweet us (not so anonymously) @SilverBulletPR .