29
May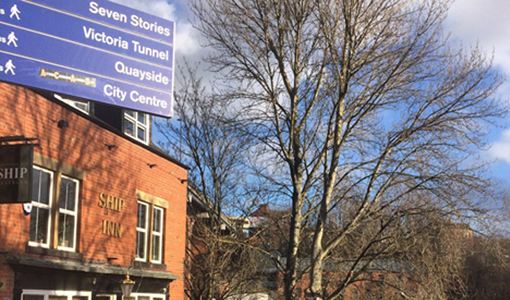 A quick guide to the outstanding Ouseburn Valley
Newcastle's Ouseburn Valley is not a very big area in the city, yet is packed with some fun, quirky and unique places which would be difficult to find anywhere else.
There are some great experiences for families of all ages, plus exciting social scenes and an enthusiastic business hub generated in Ouseburn which is becoming an increasingly popular area to be.
Family fun
1. Ouseburn Farm
The city farm has been around since 1976, set up by local people to give city children a taste of farm life. The farm is a quirky addition to the city, homing everything form guinea pigs and ducks to sheep and cows. With opportunities to feed and pet the animals it is a lovely place in the Ouseburn to be outdoors and spend time with the family.
2. Victoria Tunnel
This preserved 19th century wagonway is a distinctive feature of the area, presenting history of the city whilst in keeping with the regeneration of Ouseburn Valley. The tunnel was built in 1800's to transport coal from Spital Tongues to the Tyne River between 1842 and 1860's, then later used in 1939 as an air raid shelter during World War 2. In 2008 the tunnel was repaired and opened to the public as a visitor attraction. Ouseburn trust now organizes guided tours of the tunnel, with tickets from as little as £4.
3. Seven Stories
The National Centre for Children's Books opened to the public in 2005. It is a charity ran organisation focusing on children's literature, host to varying exhibitions, a shop, café, hire spaces and events for local children to get involved with. Seven Stories is an important aspect of the regeneration of Ouseburn Valley as it is a well-known, contemporary attraction bringing a number of people to the area.
Social Scene (Pub Guide)
4. Ernest Café
Based at the top of the Ouseburn Valley sits Ernest Café ran by artists and designers, offering a great food and drinks menu. This venue fits in with the unique flair of Ouseburn perfectly. The café organizes many popular events including film nights, music nights and dance evenings, which anyone is welcome to partake in.
5. Arch 2 Brewpub & Kitchen
Down the road from Ernest is the new and quirky bar that brews its own ales. The 'Brewpub' offers craft beer tasting and brewery tours to experience the unique skill for yourself. On top of this they host a 'Paint Social' every month, which gives you the opportunity to show your creative side whilst eating, drinking and having fun.
6. The Ship Inn
Only a few yards away from Arch 2 is the friendly, atmospheric Ship. Based in the heart of Ouseburn, this lovely pub is always busy and classed as a local favorite. The pub offers a vegetarian menu of high quality food and some great local ale.
Opposite The Ship lies the popular music venue, The Cluny. Introducing live music most nights of the week and a great opportunity for new, upcoming artists to perform, this bar is a very popular place for people of all ages to spend their evenings. Also showing an extensive food and drink menu this is a location not to be missed.
8. Tyne Bar
A little further down the valley, looking out onto the Tyne river is the much-loved Tyne bar. Located in a popular area this bar offers food and drinks every day of the week. The bar often holds events and showcases bands on its outdoor stage, which is set in front of a large outdoor seating area, perfect for those sunny days.
9. The Cumberland Arms
This traditional pub, also a bed and breakfast, has something for everybody. Serving great beer, this wholehearted pub is a fantastic place for live music, comedy and theatre.
10. The Free Trade Inn
The Free Trade hasn't changed much since it opened its doors, but still attracts people due to the real ales and fantastic views of the Quayside. The beer garden is one of the valley's most popular spots on sunny days.
Business Hub
11. The Biscuit Factory
This well-known space is a great location for artists to showcase their work in the UK's largest art, craft and design gallery. The Factory Kitchen Café is located within The Biscuit Factory making this more than just an arts space, perfect for coffee or brunch. In addition to the café is the award winning restaurant Artisan, serving a modern British inspired menu.
12. Creative talent
Ouseburn is known for its artistic style and being home to some of the best art studios in Newcastle. Brimming in culture Cobalt Studios is a not for profit co-working space, art galley and studio. Northern Print is a gallery, studio and educational space dedicated to printmaking and 36 Lime Street is the oldest and largest studio group in the North East, housing a diverse mix of creative talents such as artists, makers and designers. Each of these studios brings something inspiring to the area.
Ouseburn is home to a multitude of businesses, many of which are privately owned and therefore great assets to the regions economy. Many business people are happy to invest in property and business in the area, as it is fair to say that most people working in Ouseburn love the location.
As previously mentioned above are local businesses which contribute to the area, but as well as these companies there are car garages, a hair dressers, shops and of course the best marketing agency in the region.
Ouseburn Valley is home to Silver Bullet Marketing; a creative agency that helps many companies develop and grow. It is a lovely place to work and with so many great places to visit down the valley, the Ouseburn really is an asset to Newcastle.
To get in touch with Silver Bullet email us at hello@silverbulletmarketing.co.uk or find us on Twitter @SilverBulletPR.
This article was written as a lifestyle column by Jen Macdonald.