16
May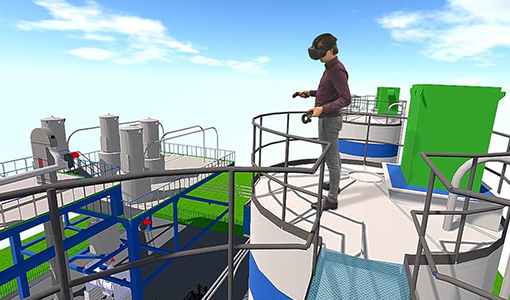 Bilfinger Tebodin Offers Industry a Digital Future
Bilfinger Tebodin, the global consulting and engineering firm, is offering clients the very latest in digital technology to design both new facilities and change existing plants.

One element of this is Building Information Modeling (BIM), a collaborative way of working, which unlocks more efficient methods of designing, creating and maintaining of assets. BIM is now widely used, and increasingly specified as mandatory for both residential and commercial construction. However the technology is still new to the industrial sector, a position that the company is changing through her investment in digital technology now available to clients on a local and global basis.
Ian Dunkley, Managing Director of Bilfinger Tebodin in the United Kingdom, commented, 'BIM offers clients incredible advantages when investing in new facilities. Modern industrial processes can be complex, partly due to the number of stakeholders and different engineering disciplines required. BIM enables all the information to be shared during the design process and enhances communications across the project team wherever they are in the world'.

'Our engineers are able to design complete process and industrial plants digitally from concept to construction with innovative solutions to industrial design challenges. This seamless collaboration produces considerable savings and dramatically reduces costs and project timescales. Designs can be optimized not just in 3D and 4D, but right up to 7D to incorporate future maintenance costs. It creates a common environment for all stakeholders which can be viewed in virtual reality.'
The technology has been successfully applied by Bilfinger Tebodin on the Great Wall Motors Company's car factory in Russia. This giant facility (225,000 m2), with a production capacity of 150,000 vehicles per year, was designed by Bilfinger Tebodin involving more than 100 engineers across seven countries.

Another digital tool Bilfinger Tebodin has developed is 'Industrial 360°', an innovative scanning system capturing industrial sites in a photorealistic way. This together with 3D point data from the site itself creates a transparent information model in HD. The virtual walkthrough can be used for design modifications, maintenance objectives, safety inspections, turnarounds and training. The technology has been extensively used for factory modifications at large petrochemical companies, HAZOP studies and updates of safety valve calculations, new state-of-the-art laboratories in the pharmaceutical sector, renovation of an outdated production unit in the food sector and expansion of an existing glue-production facility.
Ian Dunkley continued, 'The two technologies, for projected and existing facilities, are great examples of how important we view this digital future and the innovative service we can now offer to clients not only in the UK but on a global basis. We have over 40 engineers of diverse disciplines at our office in Warrington and are already in conversations with a number of clients about the benefits of and applications for the new technology – the future is definitely digital!'
Scans of a Bilfinger plant are available at https://my.matterport.com/models/FD932sxnX6f whilst scans of a Bilfinger office are available at https://bit.ly/2ItLRcO
Further details are available from Bilfinger Tebodin UK at www.tebodin.bilfinger.com or on (01925) 649308.