22
May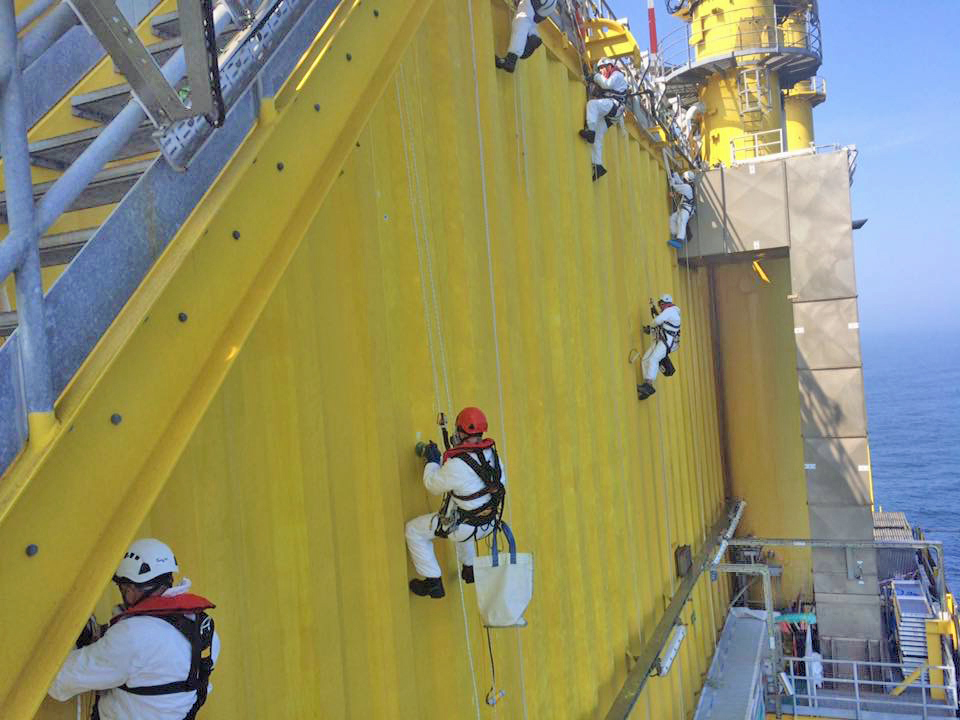 Offshore Sector Boost For Wescott
With Europe alone investing some €27Bn in new windfarms in 2018 (Wind Europe Report April 2019), the boom in coatings for offshore structures has come as a very welcome boost to Jarrow-based Wescott Industrial Services who have enjoyed significant growth during 2018 and this year.
The company currently provide access and coatings services to four principal markets, Offshore & Marine, particularly to the rapidly expanding Offshore Wind Farm (OWF) market, Transport Infrastructure, which is mainly concerned with the protection of road and rail bridges, New Build, which involves the application of diverse coatings of structural steelwork but increasingly for the application of intumescent or fire-proofing coatings, and finally, access and coatings for Facilities Management.
Matthew Doyle, Wescott Group's Commercial Director, commented, "We're confidently expecting an annual turnover of around £4.4m up to April 2019, but based on orders already placed, are projecting an increase to £6m for the next financial year, rising to £7.3m up to April 2021. Just as importantly, the increased revenue is broadly split across the four sectors within which we work and includes an increasing contribution from our overseas operations in Australia."
"The coatings industry has changed as the value of asset integrity management is realised and what was once seen as an additional option, is now considered as a vital requirement. In the Offshore market, for example, we not only have new wind turbines to protect but also aged oil and gas facilities, some of which are well past their original life span as more efficient oil and gas recovery methods have been developed."
"Onshore, our skills in coatings and expertise in alternative access methods are in demand in every sector from retail and leisure structures to industrial facilities. But we have only reached this level of activity by continually offering our clients new and often state-of-the-art technologies which bring greater efficiencies, cost savings, environmental benefits or increased productivity and this gives us our edge over our competitors."
For preparing steel structures for coatings, Wescott now offer their customers the EcoQuip Vapor Abrasive Blast Equipment system which carries the abrasive media suspended in a fine mist rather than dry, slurry and traditional water-based blast methods. Similarly, their expertise in rope access is now enhanced by investment in the innovative V-Deck suspended platforms, designed specifically for access under offshore platforms, bridges, piers and other industrial structures which replaces the more traditional tensioned netting.
Typical OWF projects have included the BorWin Alpha and Dolwin Alpha platforms in the German North Sea – projects which required the rapid deployment of fully trained and highly skilled personnel able to comply with the operators' stringent H&S and Environmental standards.
Wescott are also involved in the initial coatings for OWF structures and were heavily involved in the coatings for offshore structures for the massive Beatrice Wind Farm on both Tyneside and Methil in a contract that saw a crew of some 44 blasters and painters working around the clock to prepare and coat the steel surfaces.
Established in 2010, Wescott Industrial Services employ some 50 full time managerial, supervisory and multi discipline operatives with the ability to employ temporary onsite crews employed for specific projects to suit requirements. As of 31 March 2019 the company has enjoyed working over 1,000,000 hours LTI free. The company has their own training subsidiary at Jarrow providing rope access and safety training. For further information please visit www.wescottis.com or email Matthew Doyle, Commercial Director – matthew.doyle@wescottcoatings.com.