15
Aug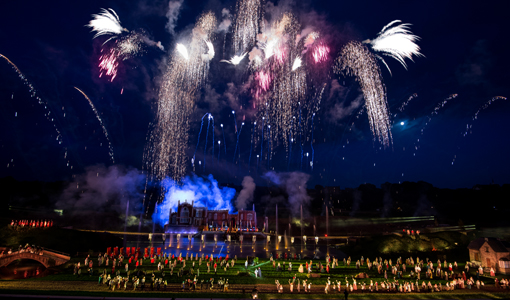 Why Kynren is So Important
I had the absolute pleasure of watching Kynren at Bishop Auckland on a Friday night in August and can't praise it enough or the 1,000 volunteers or the organisers who had the courage and vision to attempt something so outrageous for the NE region that I can only imagine the struggles they have had to turn their dream into such a stunning reality.
For those that aren't aware of this superb spectacle in County Durham, some background. Kynren is the jewel in the crown of a larger plan to develop tourism in SW Durham and the brainchild of millionaire philanthropist, Jonathan Ruffer, who grew up in nearby Stokesly but now lives in Bishop Auckland.
A spectacularly successful stockbroker and financial expert (his company, Ruffer Investment Management, employs some 200 people and manages funds close to £20bn) Jonathan first hit the local headlines when he saved the Zurbarans, a set of religious paintings, from being sold off by the Church Commissioners, by purchasing not only them but also the castle in which they hung, Auckland Castle, for a reputed £25m as part of his vision for tourism to South West Durham to act as a catalyst for economic recovery.
Inspired by France's world famous Puy du Fou historical theme park near Nantes and their spectacular volunteer-led Cinescenie evening show, Jonathan began the planning for Kynren three and a half years ago under the umbrella of the registered charity, Eleven Arches, whereby all profits will be reinvested into the show and training local people to run it.
Working with experts from Puy du Fou, the £35m show premiered on July 2nd, the first of just 14 shows on a stage the size of five football pitches in front of an 8,000 seat stand. Covering some 2,000 years of selected British, and especially local, history in 90 minutes, Kynren whizzes through Roman, Viking, Tudor, Industrial Revolution and Roaring Twenties vignettes finishing with the Second World War. A Viking ship, mine entrances, steam train, cavalry charges, mass combats, spectacular lighting and water effects together with inspiring fireworks and specially created musical score are just some of the treats in store for the audience.
So why is the show so important? Firstly, it demonstrates how a community can pull together and achieve amazing results when it wants to – Kynren involves virtually the whole town and will bring in an estimated £4.75m per year in tourist revenue as well as creating hundreds of local and regional full-time jobs. The evening I went, I was amazed by the friendliness of everyone we met – the volunteers in the town and car parks could not have been any more helpful and were incredibly powerful positive ambassadors for what the event was trying to accomplish.
Secondly, this is happening in Bishop Auckland and SW Durham – it's hardly an area that overflows with economic potential lying in no-man's land between the rugged beauty of the Dales and the prosperity of the A1M corridor up to Durham and down to Darlington. This is a rural area hard hit by recession and years of central Government neglect and cut-backs, yet ironically, Kynren presents just the sort of shining example David Cameron had in mind in his famous Big Society speech of 2010. Make no mistake, had Jonathan Ruffer based his community investment in the more prosperous SE of the country, it would never be out of the news.
But, it isn't in the SE, and here is the third reason, it's virtually on our doorsteps in one of the most beautiful parts of the whole country and we should all be promoting it as much as those wonderful volunteers on Friday night. Tourism will form an increasingly important part of the NE economy and it is vital that we support initiatives like Kynren just as much as we can.
Ann-Isabelle Daulon, CEO of Eleven Arches, said on the Attractions Management website, "We're trying to be the glue for trips here and a catalyst for something great coming to the region in terms of tourism expenditure and economic fallout."
There's now only six shows left this year, so take my advice and go to see the show. Yes, the history may vary slightly from the accepted version but go with an open mind (and some warm clothing) and you won't be disappointed. So, thank you Jonathan Ruffer for your vision and guts, thank you Eleven Arches for your technical expertise but mainly thank you to the wonderful volunteers that make this show such a spectacular success and wonderful advertisement for the North East of England.
Image: Kynren (Courtesy of Eleven Arches)