26
Oct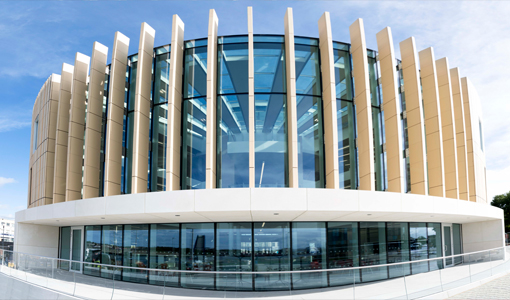 And then, there was The Word…
On Saturday (October 22nd) The Word, the National Centre for the Written Word, was opened to the public in South Shields to rave reviews all round.


As the culmination of the first phase of South Tyneside Council's and development partner, Muse Developments', ambitious £100m 365 Regeneration of South Shields, this superb, three storey, circular cultural centre overlooks the town's refurbished Market Place and incorporates a library and digitial media space. It also boasts an impressive range of facilities including exhibition space, a computer gaming area, a FabLab with 3D printers and vinyl and laser cutters, digitised archives, meeting rooms, children's immersive storytelling area, OpenZone IT suite, café and a rooftop space and terrace providing stunning views over the river.
Designed by Newcastle-based FaulknerBrowns with Bowmer & Kirkland as main contractor, and on track to achieve an Excellent accreditation from BREEAM, the terracotta panel clad building features three floors around a central atrium linked by a feature staircase and lifts. 80% of all work was delivered by local contractors (based within 40 miles of the site) with 99% of all construction waste generated was diverted from traditional landfill and recycled.
Costing £16m, The Word will offer an inspirational and exciting celebration of the written word through a rolling programme of high quality exhibitions, events and workshops in addition to fulfilling a traditional library service with some 72,000 books.
What it will also do is represent a catalyst for the town's regeneration also and as an incredible vote of confidence in South Shields. Both South Tyneside Council and Muse Developments deserve more than a pat on the back for their initial vision for regeneration and the courage to see this project through – if the next stages of the 365 Regeneration Plan, which include a new Transport Interchange and improved retail and leisure facilities, are half as impressive as The Word, the town is in safe hands.
Next year sees the opening of The Sill, JDDK Architects' equally impressive £14.2m National Landscape Discovery Centre at Once Brewed, Northumberland, for their clients, the Northumberland National Park Authority and YHA. Another superb building designed not only as a visitor destination but also as a leading education facility for landscape, conservation, countryside management, leisure and tourism skills. The Sill will also become a Rural Growth Hub for rural enterprise, proving very real economic benefits and opportunities for the region.
So congratulations to two great North East projects which shout out why, despite Brexit and all the economic and political uncertainty that comes with that fiasco, the region will not only survive but actually prosper through investment in superb facilities that bring in tourism revenue and provide economic opportunities for us all.