31
Jan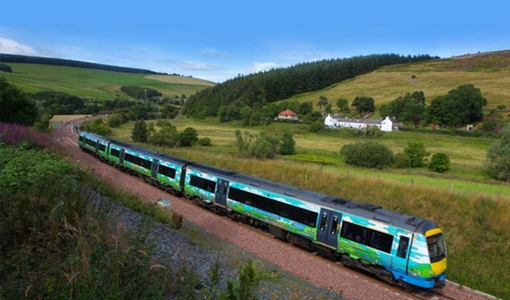 Public Infrastructure Investment Pays Dividends
For those that doubt the benefits of pubic investment in infrastructure, the latest figures released by the Scottish Borders Council this morning are going to come as a revelation, although whether it'll be enough to change any minds remains to be seen…
Passenger services were re-launched on Borders Railway, Britain's longest domestic railway built for more than 100 years, in September 2015. It had originally been shut down in 1969 as a result of the Beeching cuts.
Since its reopening, passengers have been commenting on both how stunning the scenery is during the trip and how much quicker journeys are on rail rather than bus. In February last year, there were even calls for a Borders Railway extension as it was revealed the historic line carried half a million passengers within the first four months of operation.

The Scottish Tourism Economic Assessment Monitor (STEAM) - an annual tourism data measure regularly commissioned by the local authority - revealed that, from January to June last year, visitor days in the Scottish Borders are up by almost 11% compared to 2015.

Visitor spend also grew by 16%, whilst employment related to tourism increased by 8% and the number of visitor days in hotels and B&Bs skyrocketed by a whopping 27%.

Overall, every single tracked category showed positive growth - the first time this has happened in over a decade.

"The rise in tourism activity in the Scottish Borders, both in terms of numbers and economic impact, is substantial for the first six months of 2016, not only when compared to the previous year, but also when compared to other local authority areas in Scotland," read the paper.
Global Tourism Solutions, the company responsible for the STEAM data analysis, believes the most likely source of this tourism boost in the region, given the timeframe, is the positive impact of the Borders Railway and "its role in bringing staying visitors and day-trippers to the area."

Scottish Borders Council's Stuart Bell, an executive member for economic development, praised the findings, arguing that tourism is "absolutely vital" to the region's economy.
"For the first time in a decade, the Borders have shown improved results in every STEAM category - the only area of mainland Scotland to do so for this period," he added. "The introduction of the railway has undoubtedly contributed to these figures."

Closer to home, South Tyneside Council and Muse Developments' ambitious £100m 365 Regeneration of South Shields has seen the completion of Phase I with the opening of the widely acclaimed The Word, the National Centre for the Written Word. The investment here has already seen over 120,000 visitors to The Word which is now acting as an iconic anchor for the regeneration plan with public spending looking set to be matched by private investment, Such 'consequential regeneration' only comes about through initial public investment and we can only hope to see more Government spending in the North East to drive the local economy.