01
Feb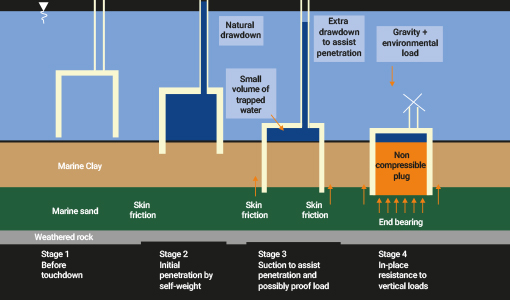 So What are Suction Buckets?
This morning's news that the Smulders Group has won the contract to assemble suction bucket foundations for Vattenfall's European Offshore Wind Deployment Centre (EOWDC), safeguarding 35 existing jobs at Wallsend and creating 105 new ones is great news for the North East economy.
The company will carry out the work on the 11 foundations at its Wallsend-based manufacturing facility which Smulders acquired from fabricator, OGN Group, at the end of last year. In the longer-term, the total number of around 140 jobs involved in the work could more than double to around 400 posts as a result of the contract.
But just what are 'Suction Buckets'?
In essence, these are huge upturned steel buckets which are embedded in marine sediments as foundations for offshore structure – in the Smulders contract for offshore wind turbines but the technology has also been used for oil and gas platforms. The buckets are embedded on the sea floor by either the weight of the structure above, or more recently, by sucking the trapped water out of the bucket, creating a negative pressure inside which pulls bucket into the soft sediment. The technique is environmentally friendlier that pile driving due to the lack of noise and can be reversed for decommissioning the structure by pumping air into the bucket or caisson skirt.
There's nothing new about the technology, they were first deployed for Shell at the North Sea's Gorm Field in 1981 but have become increasingly popular for offshore wind turbines.
Vattenfall's innovative £300m EOWDC project is a test and research project in Aberdeen Bay involving 11 of the world's most powerful offshore turbines connected by 66kV cabling to generate 90 Mega Watts of electricity or 70% of Aberdeen's domestic electricity demand and showcasing new offshore wind technology. The facility will be commissioned in 2018 testing the very latest technology and be operational for 20 years.