06
Apr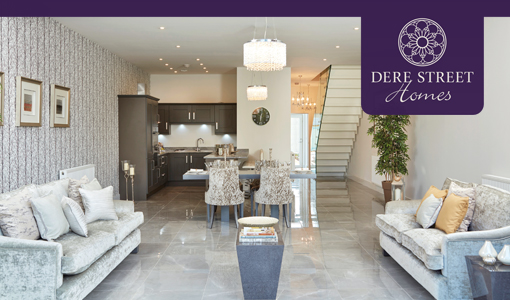 Sales Success for Dere Street Homes
You can't hang around if you want to buy a new home from one of our oldest clients, County Durham-based developers, Dere Street Homes as their developments are tending to sell out before the final bricks are even laid!
Their latest development is the prestigious Longhirst Hall, located just to the north of Morpeth and minutes away from the new link to A1(M). Originally designed by John Dobson as a grand country house for the Lawson family in 1828, the Grade II listed Hall passed the hands of some of the area's richest families, before being converted into a 77 bedroomed hotel, hugely popular as a wedding venue with a 250 person function room in addition to 23 conference rooms.
Dere Street acquired the Hall in 2016 and have lovingly restored the original property to five exceptionally spacious homes whilst also converting the later additions into luxurious townhouses and apartments. In total, the development will consist of a wide variety of designs ranging from two and three bedroom apartments, three bedroom townhouses, right up to three, four and five bedroom houses with the most grand being the seven bedroom conversion of the original main hall.
The first home to be released for sale here, a five bedroom detached home converted and totally refurbished from the former Decoro Spa was sold off plan to a private buyer and the company opened their first three bedroom townhouse showhome last weekend (April 1st) and have already sold two of the nine available townhouses.
We've worked for Dere Street Homes since 2005 when we launched their first developments at Wolsingham and Stanhope' followed by schemes at Witton-le-Wear, North Walbottle, North Shields, Hartlepool, Durham and Consett. Whilst the homes may have varied in design form the five bedroom executive homes at Hill Top Farm to the two bedroom bungalows at North Shields, the quality of construction and specification remains consistently high.
We were delighted to rebrand the company in May 2014 when we brought various elements of their brand into a cohesive whole, followed by the design and development of their web site (www.derestreethomes.co.uk ) in December 2016.
Their Hill Top Farm development, set amidst Ramside Hall Hotel's two golf courses, consisted of just 13 farmstead-style detached and semi-detached luxury homes and launched in October 2016, selling out bar one final property within a year.
With high interest in Longhirst Hall, there seems little doubt that this development will quickly sell out too, so congratulations to Chris, Marie and all the team at Dere Street Homes - you're a pleasure to work with ands we greatly appreciate the trust you place in us!