03
Jan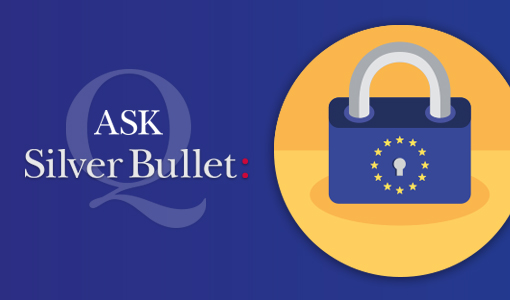 What does GDPR mean for marketing?
Ask Silver Bullet January 2018


With the fear of the EU's General Data Protection Regulation (GDPR) coming into force in May 2018, businesses are growing concerned around the effect of the regulations. Marketers undoubtedly are worried about how this will affect direct marketing strategies, but, to put minds at ease, there are positive aspects to the changing regulations, which could actually assist marketing in the near future.
Regulatory data is the information that must be provided to a regulatory agency (such as the government) by a company with access to said data. Looking at what is regulated data gives us a base to understand GDPR - businesses are required to protect the personal data of EU citizens for trades that occur within the EU, and yes, this still affects you after Brexit. GDPR is being enforced in order to keep personal data safe and used only by those with legitimate access. The new standard will be being enforced for consumer rights and regulatory compliance must be shown otherwise companies will face penalties.
Due to these new EU regulations marketers have to change how they access and use data which for some campaigns, could prove difficult. Direct mail and email marketing has previously been used to send information to a mass audience but after GDPR is in place, only those who have subscribed to a service can receive information, which could actually be a positive move, forcing more accurate profiling. Other aspects of marketing such as design and web development could also benefit from this change, especially if companies comply early because they will stand out from competitors for a period of time.
As all companies will need explicit consent to use personal data, data management will be improved in the marketing world - data will have to be more organised and therefore targeting will hopefully be more accurate. Whether a company chooses to arrange their data geographically, demographically or by industry, it will be much clearer to see who they should focus on for advertising, emails or direct mail.
Ultimately GDPR should increase trust. Privacy will be better respected and any promotional material a consumer receives will be relevant to that individual. For example, emails will only be sent to the addresses of those people who are specific ally interested in the campaign. ROI (Return Of Investment) should therefore increase because marketing campaigns can now target those who are interested in the service or product and want to be contacted.
Data protection rights have always been in place to some extent, but with consumer rights now being a priority, direct marketing regulations have to be enforced. Although marketing consent will become more restricted it gives marketers the chance to show off their creativity – personal information will become harder to acquire so creative minds will have to think outside the box to incentivise consumers to give explicit consent for their details.
Kirsty Ramsey, Marketing Manager of chartered accountants, Tait Walker, commented on the new regulations, "Whilst the GDPR seems very scary for business on the whole, I actually see the changes as a real opportunity for marketers. It's a great way to find out what your clients really want to hear about, record their content preferences, but more importantly how they actually want to hear from you."
"The changes to the rules give marketers a great opportunity to show their skills for creativity and innovation to get their message to the right audience, without the traditional methods of direct marketing. The ideal for any business is to get their potential customers to come to them and so hopefully this will encourage some great marketing campaigns and some very clever messaging."
The regulations being proposed may present challenges to many businesses including marketers, but the future is a bright one. With a bit of passion and creativity marketing will be better and more focused than ever.
Do you need some assistance with your marketing? Do you need to review your strategy or do you have another marketing question we can help with? Talk to us. Email your questions anonymously to us today hello@silverbulletmarketing.co.uk or Tweet us (not so anonymously) @SilverBulletPR