04
Jan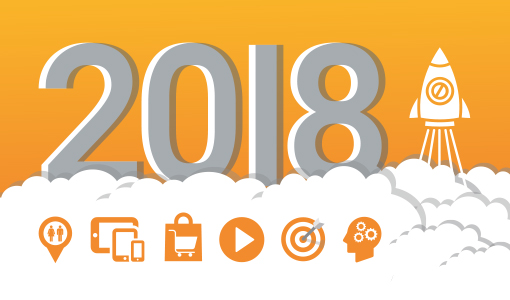 Media trends expected in 2018
Top four media trends to look out for
Technology is constantly developing at an intense rate and companies are competing to keep up-to-date with the latest media trends. There are four media trends noticeably having a dramatic impact on 2018, companies should look out for these changes in order to adapt.
1.Video Marketing
Video campaigns have come a long way since traditional television advertising; video marketing is now being used everywhere and more frequently as a quick, easy way for people to obtain information. Companies are integrating video SEO into marketing strategies as a wider form of content – online streaming, social media marketing and website integration (i.e. testimonials or tutorials) are all types of video marketing that are increasingly popular media trends which will continue to grow throughout 2018.
2. Internet Shopping
Whilst this craze has fluctuated during recent years, online shopping does not seem to be slowing down anytime soon. When it comes to media trends, this is definitely at the forefront. Why go to the shop when you can get whatever you require delivered to your door?
Internet shopping has changed the face of spending, we have developed a 'throwaway culture' where people want new products and services much more often than in previous decades. There are multiple companies who have taken their stores off the high street and solely set up as an online business in search of larger ROI – it is considered the norm for retailers to have a website to buy from. Sites like Amazon and EBay have developed market places where you can buy almost anything, which has led them to be considered as two of the best online shopping sites. This media trend will intensify in 2018, and with delivery being rapid and cheap the demand will multiply.
3. Social Media Trends
During 2018 social media will continue to be the centre of everyone's lives – but there are slight changes coming to the media that will no doubt be an exciting development to anyone who uses these platforms and alter social trends in business. Facebook is due to become more business orientated with the aim of business being carried out across the network and a way of contacting potential customers. Twitter is becoming even more concerned with news – the platform is aiming to get its users to contribute more news worthy posts and discussions of current affairs. Instagram is going from strength to strength developing its popular platform, this will continue in 2018 with exciting new updates. Snapchat as a social trend is slowing, in 2018 the app is going to attempt to target individuals with focused relatable stories rather than the generic stories which are currently available to view, with the aim to accelerate downloads.
These social developments are coming at the perfect time to link with other media trends such as video marketing and Internet shopping.
4. Artificial Intellect
Finally a media trend in 2018 that is maybe not as welcome as the enthusiasm of Internet shopping, artificial intelligence is maturing fast! Although some people are worried about this change, most are embracing the changes. Updates on technology such as the Amazon Echo, Apple's Siri and Google's home smart speaker are all types of AI built to help people in every day life – so far proving very popular and effective.
But, this is just the beginning!
Intelligent technology is being integrated into machinery, automobiles and robotic assistants – leading the world into the next generation of technology. Soon the majority of media could be controlled by artificial intellect, which would ultimately change the way company's function. It is not to be underestimated and is something that will show huge advancements during 2018.
It is important to look out for these changes, with an aim to keep up to date and embrace the developments as they happen. We are in a technological age and soon other media trends will come to impress or scare us. Either way these changes will happen and it is vital in the world of business not to get stuck behind the times.
Silver Bullet Marketing Ltd, based in the Ouseburn Valley since 1999, provides a full range of marketing services from PR to website design. For more information call Silver Bullet on (0191) 261 7422 or visit www.silverbulletmarketing.co.uk , Twitter:@SilverBulletPR or Instagram:@silverbulletpr