24
May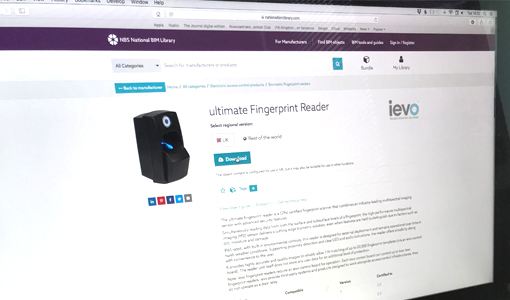 ievo Release Biometric Fingerprint Readers as BIM Objects
ievo Ltd, the Newcastle-based manufacturer of biometric authentication technology, have worked with NBS to produce a comprehensive range of BIM objects for the NBS National BIM Library for their fingerprint readers and control panels.
All ievo objects in the NBS National BIM Library are available in REVIT and IFC formats and have been made available to help specifiers, architects and contractors using BIM building practices to incorporate the very latest in biometric access control technology into their designs.
Ash Westgate, ievo's Marketing Manager, commented, "The growth of BIM as a design tool for architects, engineers and other specifiers is transforming the way buildings are designed and we need to be involved in this new technology to be of assistance to our customers. Last year the NBS conducted a survey of 1000 architects and contractors in which 70% of respondents said that using BIM technology had given them a competitive advantage."
"We have invested in BIM technology to make our products more accessible to architects and designers to further raise the profile and extend the visibility of the brand. Users can utilise our technology by using smart BIM objects at the planning stages of development rather than leaving it towards the end of a project cycle."
"Security in general, and particularly access control, is a vital requirement in commercial buildings projects which can be complex in planning, so it makes sense to incorporate the very latest technology into the designs. In addition, because BIM objects are now available in the most common formats used in design planning, consultants can add in the relevant objects at later stages of the development without having to worry about compatibility of software."
In the UK and overseas, BIM is increasingly used by architects and designers for most larger construction projects. In Dubai, for example, a growing export market for ievo, BIM software is actually mandatory for all major projects and buildings (developments of over 40 stories or 300,000ft2), alongside all Government, hospital, university and school projects.
Holly Burrows, NBS Account Manager added, "It's been a pleasure to work with ievo Ltd who are the first biometric fingerprint reader in our NBS National BIM library. Choosing NBS to author their BIM objects means that they will be uniquely integrated within our digital BIM ecosystem that is used by construction industry professionals of all disciplines around the world. It's great to see already the response they've received from our customers and I very much look forward to continuing to support ievo Ltd on their BIM Journey."
The NBS National BIM Library is the only collection of high quality BIM objects certified to meet the NBS BIM Object Standard. It's currently the UK's fastest growing BIM library with an extensive collection of both generic and manufacturer objects which designers can use throughout the timeline of their project.
The ievo BIM objects can be accessed through the NBS National BIM library at:
https://www.nationalbimlibrary.com/ievo-ltd or through ievo's own website, https://ievoreader.com/specifiers-and-consultants/