05
Mar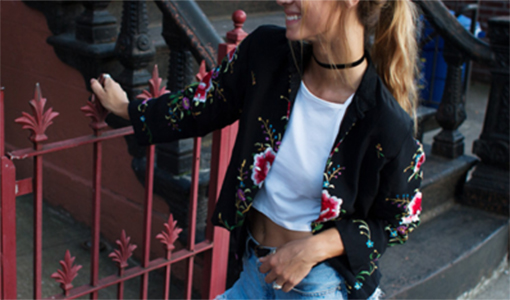 Fashion 2018: Popular trends for spring/summer
Birds tweeting, flowers growing and current fashion trends being thrown away can only mean one thing - spring is on its way, along with new fashion lines presenting some weird, whacky and wonderful garments to style the catwalks and refresh the high street. Fashion designers all over the world scramble to get their spring/summer collection worshiped by fashionistas. Names like Alexander McQueen, Stella McCartney, Vivienne Westwood, Marc Jacobs, to name a few, come together to represent the world of fashion throughout February and March. Revealing what we can expect to see in the coming year.
These are just some of the trends we can look forward to…
Styles
We all know fashion eras reappear with new alterations and adjustments from time to time, well this spring it's the return of the 80's. Power sleeves, ruffles and shoulder pads have been adopted this year, but Power Suits and Puffed Shoulders in particular will be visible in spring fashion. Perfect for the working woman.
Trench Coats are another popular item demonstrated by Valentino and Maison Margiela, which will be present in spring/summer collections. These lightweight coats are a great addition to any spring wardrobe, complementing most outfit choices.
Polka dots are a timeless classic – dipping in and out of style, this trend will be everywhere this spring and continue throughout the summer, providing many fashion ideas for when the sun comes out.
Materials
Fashion materials alter every season, but these new fashion trends will definitely prepare you for any spring/summer festivals. This year's must have material is Plastic! Coinciding with the latest fashion of transparent and sheer garments, plastics are described on this year's catwalk as one of the most out-there trends. Perfect for those spring rainy days, Chanel has designed a plastic collection to help you look chic in all weathers.
Feathers and Fringe have been presented during fashion weeks around the world as fashionable materials of the season. The Italian runway in Milan was bursting with fringe garments ready for when those spring parties are in full swing. Whilst some high street stores such as Mango and Topshop are flocking to feathers for their new seasons essentials, inspired by the likes of Prada and Ashley Williams. Both materials will enhance festival ensembles perfectly.
Colours
Bold colours saturated New York fashion week this year. The vibrant display brightened up the runway, parading a complete collection for summer months. Meanwhile, Pastel colours softened the London catwalk, the perfect shades to compliment spring fashion.
Both New York and London was host to Lavender as a spring/summer necessity in fashion and style. First displayed by Tom Ford as an 80's style bomber jacket, this pale purple seems a bold colour compared with other pastels gracing us this spring and will be displayed in most fashion stores throughout 2018.
Dark Denim is also back this year, displayed by Tom Ford and Max Mara, bringing back a desired fashion of the early 2000s. This traditional colour will compliment most chosen outfits throughout the year.
Your spring and summer months will be bright with this mixed palette, with multiple fashion magazines displaying exactly how to wear these colours well.
Accessories
The most popular fashion accessory of 2018 for spring and summer is of course the Bum Bag. This fashion style is not going anywhere fast. Handy for the spring and summer months the regeneration of this fashion item is a useful addition to holidays and festivals.
To get in touch with Silver Bullet email us on hello@silverbulletmarketing.co.uk or find us on Twitter @SilverBulletPR.
This article was written as a lifestyle column by Jen Macdonald.