05
Mar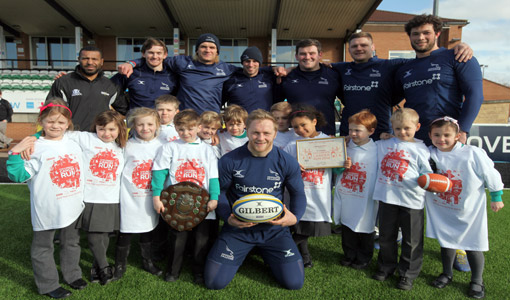 Newcastle Sport Unites for the Launch of the 2015 Children's Cancer Run
We were recently honoured to be invited to Kingston Park Rugby Stadium as the stars from the Newcastle Falcons and the Newcastle Thunder united to officially launch the countdown to the 2015 Children's Cancer Run.
A host of Newcastle Falcons stars as well as Newcastle Thunder's Jason Teli were on hand to launch the run and to officially open postal and online applications for what is one of Europe's biggest family fun runs. The run takes place at Newcastle Racecourse in Gosforth Park on 17th May 2015.
It was great to launch on a perfect early spring day (hopefully we will have the sun on run day!) at Kingston Park, the home of both rugby clubs, as 2015 is a real year for rugby in the North East. St James Park hosts not only Super League's Magic Weekend but also Rugby Union World Cup matches for the first time.
In 2015 the Children's Cancer Run celebrates its 33rd anniversary and has already raised an incredible £6.5million, with all proceeds going to the North of England Children's Cancer Research. Organisers are hoping that last year's amazing £165,000 donation will be exceeded this year. The cancer research primarily takes place at the Sir James Spence Institute and Northern Institute of Cancer Research in Newcastle at the Royal Victoria Infirmary (RVI).
Newcastle Falcons and former Scottish International Mike Blair:
"It is a great honour connected to the Children's Cancer Run. It is an event that makes a real difference to the lives of so many people, not only in Newcastle and the North East but beyond. Without the vital funds raised through the run the current level of cancer research could not be undertaken. It's great to see the North East sporting clubs pull together to launch the event in what is a special year for North East sport, with the Children's Cancer Run at the heart of the event.
I would encourage anyone who can take part in the run to do so, its such a special family event that enables such amazing cancer research to happen."
This years run will link up with the regions two premier Rugby sides, Newcastle Falcons and Newcastle Thunder. Kingston Park hosts the Falcons Legends game ahead of the World Cup in October and Newcastle Thunder face York on City Knights following the run on 31st May.
Chris Peacock, Chairman of the North of England Children's Cancer Research Fund (NECCR)
"Its wonderful to welcome along the Newcastle Falcons and Newcastle Thunder players to help officially launch the 2015 Children's Cancer Run.
The Cancer Run is such a tremendous family event to be part of, especially for those families who have experienced cancer. Every year blown away by the support we all receive.
When I was diagnosed with cancer, in 1982 at the age of four I was given just a 30% chance of survival and a child with the same diagnosis today now has an over 80% chance of survival. Many of these leaps and bounds have come from research undertaken at the Sir James Spence institute, which will with the help of supporters continue to find more treatments and one day, we hope, a cure."
Chief Executive of Greggs Roger Whiteside was also in attendance:
"We at Greggs are all very proud of our association with the Children's Cancer Run and are all looking forward to this years event. This is a truly worthwhile cause and raise vital funds in the fight against children's cancer."
The Children's Cancer Run will be held at Newcastle Racecourse on Sunday 17th May 2015 and is open to all. There is a five-mile cross country run and a one-mile event for under sevens. New for 2015 there is also a three mile run. Entry is only £12 or £6 for under sevens. For more information or to book places online go to www.childrenscancerrun.co.uk
There was some great coverage of the run in the local press including this piece in the Evening Chronicle: Chronicle Live Official Childrens Cancer Run launch
If you want your organisation to get that front page coverage why not get in touch with us here at Silver Bullet?
hello@silverbulletmarketing.co.uk or give us a call 0191 261 7422.