10
Mar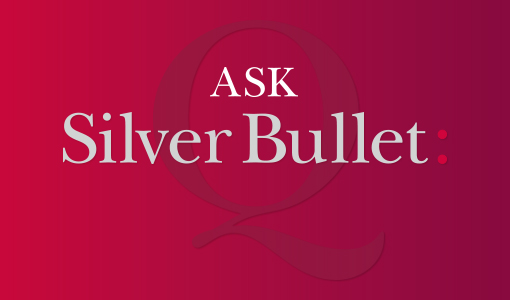 I hear a lot about corporate social responsibility, but will this actually do anything to help my brand?
Ask Silver Bullet: March 2015


We as consumers are becoming increasingly moral in our purchase decisions and our attitudes to brands. From fair trade and organic to partnered charities, many organisations are embracing this ethical practice through their operations and marketing activity. We all want to build our brands, develop positive brand attitudes and ultimately brand loyalty. Co-ordinated ethical, community or charitable activity is now becoming an implicit brand-building tool. It sounds quite simple, do something good and people will like you. However, this all has to be carefully managed in order to maximise the impact on your brand and really differentiate you from your competition.
In recent years we have seen many organisations increasing activity in this "ethical" practice. This may well be philanthropic in nature, however in many cases there will be a business motive driving the ethical project. These organisations will not deem this activity as "marketing", but it will hold a vital role in their overall marketing strategy.
As we have said before in our #AskSB articles consumers do not like to feel marketed or sold to. We are bombarded with sales and promotional messages and now community activity and "Corporate Social Responsibility" is growing as a method of brand building without this 'sales' message.
The primary tool in turning this ethical activity into a brand building mechanism is the associated Public Relations (PR). Consumers do actually want to hear about good and charitable work, especially in our local communities. This means through ethical work your target consumer may become increasingly receptive to your PR messages, a stark contrast from a forceful advertising campaign. With PR, the message is not delivered directly from the business to the consumer; it comes via a third party and can act as an effective endorsement of your activity and of your brand.
The reason that ethical PR has become intrinsic in many organisations' PR strategies is that it gives the organisation far more to talk about other than their day-to-day operations, opening up the organisation's message to a much wider audience. This could be the mechanism to finally get to your target market. Morrisons' new partnership with the Great North Run, for example, will give them many more PR and marketing opportunities in the increasingly vociferous supermarket war. A solid ethical PR strategy can develop that emotional bond with the targeted audience that really will be of tremendous value to the brand, which Morrisons will be seeking.
There are many benefits to marketers choosing to push community activity, especially in the current economic climate. Whilst many of us can not justify to ourselves or our finance directors to splash out thousands on a new all singing all dancing TV ad, it is sometimes easier to justify spend on an ethical campaign, which is often more cost effective. In many cases the returns are more valuable and worthy for the brand when utilising ethical activity.
As with any marketing promotion, undertaking a community programme has to be considered. You need to have a fit between your brand and either the company you associate with or activities you are planning. If you do not have that brand fit, despite the value of the work, or without the right preparation, you may in fact harm your brand. For example, the public perception of a fast food chain supporting a health programme or a money-lender offering a financial advice programme could potentially be controversial and requires careful management of surrounding promotions and even smaller build-up campaigns in order to be successful.
The best examples of ethical activity are integrated throughout all communications. British Sky Broadcasting's on-going promotion of their work in the Amazon Rainforest, Sky Rainforest Rescue, is an excellent integrated campaign. Not the normal message from a large broadcasting corporation, but an emotive issue we can all engage with. Sky embraced this through their PR, broadcast programme, van livery and even the Amazon green stripe on Team Sky cyclists' jerseys in 2011. A co-ordinated marketing campaign based on ethical activity, which has only enhanced the Sky brand.
As with all you're marketing, any community activity and PR communication needs to fit with your overall marketing strategy. A fully integrated campaign gives you the best opportunity that your consistent message will be received, understood and acted upon by your target.
So if you are doing something that you think might be newsworthy and could help your overall marketing campaign or have another marketing question we can help with, talk to us. Email your questions anonymously to us today hello@silverbulletmarketing.co.uk or Tweet us (not so anonymously) @SilverBulletPR and use the hash tag #AskSB